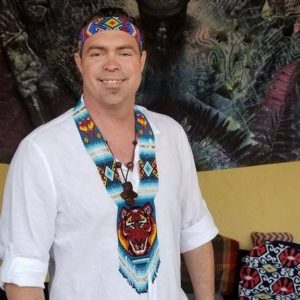 Co-Founder, Medicine Man, Purveyor of Tribal Medicine.
Founder/Spiritual Guide and Medicine Man Chris founded Soul Quest in September 2013 and established its foundation in April 2015. At a young age Chris felt the call to help others so In 1996 he obtained a certificate in Phlebotomy and Medical assisting where he then worked in a geropsychiatric Unit. In 1997 Chris went back to school to study Emergency Medicine and received a certificate for "EMT" where he worked as an ER tech at a local Hospital. After many years of working in the medical field and seeing how bad legal prescription drugs were killing people.
Chris decided to learn more about alternative Medicine. So, he moves to Germany where he spent three years studying in Europe, he gained extensive experience with Sacred Plant Medicine and Plant medicine ceremonies its where he found his spiritual religion Ayahuasca. After attending to many Ayahuasca religious Ceremonies He got the calling to bring the medicine to his homeland "The United States" to open an Ayahuasca Church and begin the teachings of the Ayahuasca Manifesto as well as bringing the miraculous healings of the spirit of Ayahuasca to everyone there. Chris Chose Orlando, Florida to be ground zero for the Ayahuasca Church for its climate and easy access to its international airports. For the first year, Soul Quest rented a small building in downtown Orlando Called True Serenity. There he was able to begin healing and have church service on a small scale. 1 Year later Chris and co-founder Verena were able to acquire 4.5 acres of land with a 5000sqft facility where they have begun to build the Ayahuasca church and healing retreat center. Where he has his church service at least 3 Sundays a month and has weekly group integration via phone and web cast.
Chris is responsible for handling administration and bookings, as well as organizing before, during and after the retreats. In addition, he is actively involved in all Sacred Plant Medicine Ceremonies as the Medicine Man, and he is the primary contact for any questions you may have. Chris is supported by a few traveling shamans (curanderos) and facilitators who provide nurturing guidance and love to care for all Church members.
Events with Chris Young