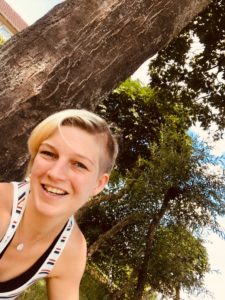 Co-Founder, Sociologist & Social Psychologist, PhD. Candidate, Director for Research & Evaluation.
Verena is a Sociologist & Social Psychologist currently finishing her PhD in Educational Science. She is also certified in Spiritual Counseling (Paracelsus School of Naturopathy), and Addiction Recovery Psycho-Spiritual Integration Coaching (BTTY).
Verena is originally from Germany where she has lived and worked the first 30 years of her life in a small town in North Rhine-Westfalia. She studied at the University of Bielefeld, Faculty of Sociology, and continued in the department of Educational Science. She worked for the Scientific Committee Laboratory School in Bielefeld for 5 years in the area of School Development and Educational Research – the last year as the Scientific Director of a long-term-study.
Verena has attended Systemic Family Constellations workshops and training since 2014 with outstanding practitioners in Germany and with leading exponents like Suzi Tucker, Leslie Nipps, Marina Toledo from the United States and Canada. Family Constellation work is focussed on revealing  unconscious and trans-generational patterns of entanglement to find a new solution. Relationships can then be re-aligned, which allows healing forces to flow freely. These so-called 'Soul Movements' are often times very intense, touching, and seem to deeply influence a person on all levels of consciousness.
In 2018, Verena became a certified Foundational Practitioner of Reconnective Healing– a comprehensive healing approach within the field of Energy Healthcare, recognized for its capacity to stimulate an individual's return to balance, harmony, and well-being on all levels – physical, mental, emotional, and spiritual.
Verena co-founded Soul Quest in 2015 to offer transformative healing work with entheogens to people in the United States after experiencing the healing benefits in Europe. She has been on a spiritual path since her early 20s, has participated in many different spiritual retreats, workshops, and energy healing classes. Verena discovered the healing benefits of Ayahuasca in 2014 what has helped her profoundly to overcome a decade long struggle with panic attacks, anxiety, depression, and alcohol abuse – it is now her mission to help others to heal from their burdens of life and to find their true self through the work with plant medicine. She believes that we all have the capacity to reconnect with the essence of our true spirit to live a life of purpose, unlimited potential, and authenticity. 
Events with Verena Young