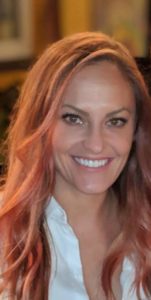 RYT 200, Facilitator, Rapé Practitioner.
"The whole effort of the spiritual process is to break the boundaries you have drawn for yourself and experience the immensity that you are. The aim is to unshackle yourself from the limited identity you have forged, as a result of your own ignorance, and live the way the creator made you – utterly blissful and infinitely responsible."  –Sadhguru
I first discovered my spiritual path back in 2010 when I got sober from opiates (among other things). I was consumed with desperation which brought me to my knees. At that point, everything changed and I was filled with love and positivity where there was once only anger, sadness, and negativity. Of course the path did not begin there, but was planned much in advance as the drugs brought me to this desperate place of seeking. It was from this place that it was time to acknowledge the deeper work…the things that had been pushed down, ignored, and left to fester. When I received the message about Ayahuasca, I KNEW it was a deep calling to move forward and wake up to the self I had been silencing my whole life.
After my first weekend at Soul Quest in August of 2016, I started noticing all of the lies I was wrapped up in and began the process of living an authentic life…one that was mine and not what others said it should be. Shortly thereafter I started helping at Soul Quest, knowing I could never go back to the life I pretended to have before. Wanting to clear even more, I went to Peru to do a dieta. This meant a 30-day process, 14 days of which were in solitude in the jungle with no distractions. Watching myself, I was faced with the "reality" of myself which was a lie. This led to a Vipassana course to continue the clearing of this old dynamic and a constant re-centering back to this moment's truth, honoring whatever that may be. At the moment it means allowing Ayahuasca to work through me so that I can help assist the beautiful souls that I come across at Soul Quest and otherwise.
Events with Norelle Adams