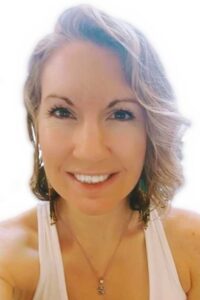 Facilitator & Rapé Practitioner.
Colleen Mix is a ceremony facilitator and mother of two growing sons living in St. Augustine, Florida. She has been a member of Soul Quest Ayahuasca Church of the Mother Earth since December 2016, a volunteer since September 2017, and was brought into our core team of staff in May 2018. She was called to a path of healing through plant medicines primarily because of a pharmaceutical benzodiazepine addiction that plagued her for about a decade, cumulatively. After a head-on collision vaulted her back into the meathooks of addiction spring of 2016, she vowed it was time to make earth-shaking changes about her life. Colleen has remained free of addiction since her first Ayahuasca ceremony January 13, 2017.
Colleen is inspired by the guidance and lessons Ayahuasca has brought into her life. Such profound healing sustains her post-traumatic growth as she continues to maintain her recovery. Today, she feels fulfilled facilitating others who wish to dive inward. Members now might catch her every so often singing along with various medicine songs as she has uncovered somewhat of a singing voice during her 2nd year with the church and after more than 20 ceremonies working with the medicine.
Colleen felt deeply with her first ceremony that there is always more learning to be had. She loves working with deaf guests and looks forward to bridging the deaf community with ours at Soul Quest. She feels infinitely blessed to be a part of this dynamic, compassionate, motivated family and she welcomes all of you to become a part of her continuing journey as you experience each, your own.
Events with Colleen Mix