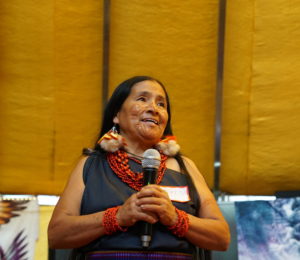 Tradicional Medicine Woman from Puyo, Pastaza, Ecuador.
Welcoming Teresa Shiki to Soul Quest Church of Mother Earth!
Ancestral Plant Medicines from the Shuar Nation of the Amazon with Teresa Shiki
Teresa will be offering her healing's daily by appointment and on the weekends when she is here.   Please call.
We are honored to welcome Teresa Shiki. Teresa Shiki is of the Shuar community of Chumpias, on the border between Morona-Santiago and Zamora-Chinchipe provinces in Amazonian Ecuador, near the border of Peru. Teresa has an entire lifetime of ancestral Amazonian knowledge with decades of experience in ethnobotanical studies. In 1993, Teresa Shiki founded the Omaere Ethnobotanical Park in Puyo, Ecuador which she continues to operate today. 
She has great success with chronic physiological problems (like diabetes, cholesterol, triglycerides, high blood pressure, stomach ulcers, fatty liver, arthritis, cancer, etc.), dermatological problems (like acne, rosacea, etc.), and gynecological problems (like infertility, vaginal infections, menstrual pain, hormonal imbalances, ovarian cysts, etc.) Teresa will be offering her healing daily by appointment only when she's here. Please call.
"We Shuar live in the Amazon and plants are an integral part of our lives. We know how they interact with our bodies and which to consume for most circumstances. Various plants help us keep our bodies clean and our immune systems strong. Before we started eating Western food and taking chemical medicines, it was normal for our elders to live well beyond 100 years of age."
Teresa Shiki was born around 1959 in the Shuar community of Chumpias, on the border between Morona-Santiago and Zamora-Chinchipe provinces in Amazonian Ecuador, near the border with Peru. There is no exact date since Shuar did not traditionally read, write, or use modern calendars.
From the early 1960s until 1972, she lived and studied at the Catholic Mission of Bomboiza, where she also learned from the older Shuar girls. Later, the nuns took her to help them in Cuenca y Guayaquil. When she was not with the nuns, she was at the right hand of her grandmother, Chimiant, who was an expert herbalist that the other Shuar would seek out for the most complicated cases. As far back as she can remember, she has always sought out the elder Shuar to ask them about the traditional life. In 1975, her family married her off against her will to an older man, with whom she had 6 children. He was abusive and eventually brought a 12-year-old second wife. Teresa had the strength of will to escape in 1989 to work in the Andean town of Loja.
In 1993, she founded the Omaere Foundation and the Omaere Ethnobotanical Park, together with two French women. Within this work, she advised indigenous communities on reforestation and medicinal plants. In 1996, she adopted a newborn girl of the indigenous Zápara tribe. Omaere translates to mean "nature of the rainforest" in the Waorani.
In 1997, she traveled to France and Spain with Shuar and Zápara coworkers from Omaere, to get experience in botanical gardens there and to receive a course on the in-vitro reproduction of plants. Omaere also asked her to teach Zápara, Waorani, Kichwa, Shuar, and Achuar about medicinal plants and even did the same in Otavaleño communities in the Andes and Chachi and Afro-Ecuadorian communities on the coast.
In 1997, she attended a course on ethnobotany at the Catholic University in Quito and, then, collected plants with the EcoCiencia Foundation for the National Herbarium. In 1999, she did native reforestation in the Bilsa Reserve of the Jatun Sacha Foundation, in the Esmeraldas province of the coast.
In 1999, she met the Californian biologist, Chris Canaday, and had a son with him in 2003.
In 2008, she finished her high school degree at the Colegio Técnico Intercultural Chaquiñán in Latacunga, Cotopaxi.
In 2009, she went to Montreal, Canada, for a month, invited by the Clef des Champs medicinal plant company, to exchange knowledge about how to make extracts and salves.
Teresa lives with her partner, Chris Canaday, in Puyo, Pastaza, Ecuador, where they manage the Omaere Ethnobotanical Park, prepare ancestral medicine, and care for her mother who is roughly 100 years old. She has great success with chronic physiological problems (like diabetes, cholesterol, triglycerides, high blood pressure, stomach ulcers, fatty liver, arthritis, cancer, etc.), dermatological problems (like acne, rosacea, etc.), and gynecological problems (like infertility, vaginal infections, menstrual pain, hormonal imbalances, ovarian cysts, etc.). For more information on Teresa's work with the Omaere Ethnobotanical Park, please visit the website. >