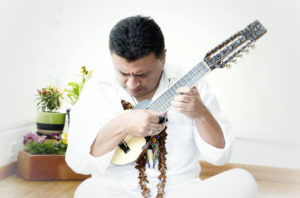 Medicine Music – Medicine Man.
ARKAWA is a multi-instrumentalist musician, producer, composer and arranger of indigenous Colombian descent from the town of Los Pastos. With more than 25 years of musical experience, he bases his work on the fusion of instruments and ethnic music from different parts of the world, as well as cultural knowledge from diverse ancestral communities and contemporary technology. He is a self-taught performer on more than 100 wind instruments from around the world, as well as rare stringed instruments from Iran, China, and Colombia. In 2014 he was recognized by the Congress of the Republic of Colombia for the contribution of his artistic career.
MUSICAL EXPERIENCE
Juan Carlos has given concerts in major Colombian cities as well as internationally in Rome, Prague, New York, Miami, Washington DC, Greece, Spain, Germany, Austria and more. He has appeared on television and radio internationally (Telemundo, Univision, CCTV Channel of Central China, et al.), and has produced over 80 works for colombian and international artists.