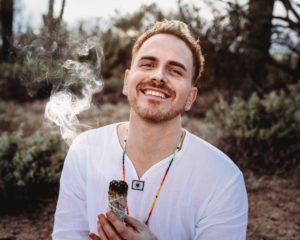 Facilitator, Rapé Practitioner, Intuitive Medium.
Mitch joined the Soul Quest team in January 2020 not only as a facilitator and Rapé Practitioner but also to share his healing connection to spirit world with psychic mediumship.
At a young age, Mitch was always drawn to nature. His parents would often find him returning from the woods with a new critter in hand. As he grew older, he began to lose his tenacious connection to source and consequently, life only brought him misgivings. After years of depression and anxiety, Mitch finally came to a tipping point in dealing with spiritual self.
As soon as he surrendered in 2014, his teachers began to appear and his purposeful path was underway. Mitch worked diligently with coaches and healers to discover new methods of clearing mind, body and spirit culminating a dedicated connection to Great Spirit. In his earnest search for source, Mitch became a certified yoga instructor at Kripula. He procured a position with Sanctuary Health Group as Program Development Director, specializing in grief & loss, trauma and holistic modalities: yoga, yoga nidra, meditation, sound healing, breath work. Additionally, led instructional classes for group facilitators. All the while, Mitch was developing, expanding and trusting his psychic connection. He traveled the U.S. holding gallery readings and workshops; also opened a private center to offer spiritual coaching, readings and workshops.
In 2017, Mitch traveled to Peru to sit in sacred ceremony for the first time. It was then he saw the limitless potential the medicine had to heal people and consequently the world. A passion for plant medicine was born and the thirst for education ignited. Mitch followed his calling to the rainforest in Ecuador and was initiated by the elders of the Q'ero nation by receiving the rites to the Munay-Ki. As an initiated Earthkeeper, Mitch was taught many uses for different plant medicines, how to navigate energy with spirit for ceremony space and hold sacred fire ceremony from Q'ero ancient tradition.
Mitch dreams today of a world filled with people who co-create and actualize harmony. His goal is to help as many people as possible in self-realization of our collective responsibilities.
"We're all just walking each other home." -Ram Dass
Events with Mitch Ott