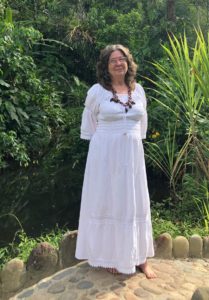 Facilitator, Rapé Practitioner, Kambo Practitioner.
AKA "Mama Dawn"
I found my way to Soul Quest in 2018. It was a final attempt to find relief from decades long severe treatment resistant depression. It took about a year to wean off all the pharmaceuticals that were ineffective and addictive before I could take the Ayahuasca. The results were more than I could of hoped for. I have been at Soul Quest ever since. In that time, I went from volunteering to becoming a facilitator. I trained and became certified as a Kambo practitioner through IAKP. Rapé Practitioner. I have been to Ecuador and learned from Shaman, Medicine women and Indigenous tribal leaders. I remain dedicated to the plant medicine path and continuing to build bridges with my indigenous brothers and sisters of the Amazon to protect their land and culture.
Historically I have a background in Healthcare as an LPN. Actively served in my community in various rolls as BSA Scout Leader, Educational advocate for special needs children, a voice for the elderly and foster mom.
I feel blessed to be part of your healing journey. We walk the path of becoming our higher self. We are all connected. We are all love. We all get better together with plant medicine and community. I look forward to transforming to a better existence of our people and planet.
Events with Dawn Touchstone