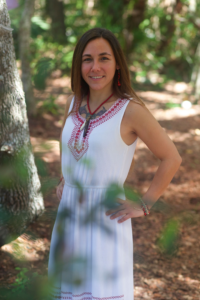 Facilitator, Administrative Assistant, Rapé Practitioner, Psychospiritual Integration Coach (BTTY).
At a noticeably young age Laura understood the importance of our spiritual connection and stewardship to Mother Earth and would spend her time surrounded in nature. She pursued a bachelor's in psychology with an inner knowing she is here to help people. This led her into various philosophies and spiritual teachings that formed into a deeper connection to Great Spirit. Through her own healing journey, she was able to heal the wounds of her past family trauma, remove ethnic biracial labels and find her own true spirits calling. As a member of the Oklevueha Native American Church and Soul Quest Church of Mother Earth, she advocates for the right of the individual to choose sacred plant medicines for their own personal healing.
Since then she is guided by her inner intuition to help facilitate in ceremony wherever she may be needed. As an integration coach, she aids with guests who are struggling through the integration process. She has a deeper understanding that once you heal past wounds, you allow yourself to transcend the story in your mind and to relinquish the mind's power over your past. She sees that Mother Ayahuasca is a catalyst for such transformations through the many stories of physical, mental, emotional and spiritual healing.
Laura aids with the administration operations and works alongside the medical team to ensure medical screening. She understands the importance of the safety of our members who partake in our sacrament. Most of all Laura enjoys the growing sense of community by assisting with events through the Orlando Psychedelic Society. In her spare time Laura offers one-on-one Psychospiritual Transformational Coaching services. She provides knowledge on shamanic practices through the wisdom of the Curanderos and teaches respect for the sacred rituals. Laura feels her mission is to spread the medicine's message, for humanity to remember their ability to heal themselves, so in turn they may heal the world.
"All things are our relatives; what we do to everything, we do to ourselves. All is really one. – Black Elk
Psychospiritual Integration Coach (BTTY) information: https://psychospiritualcoa.wixsite.com/website