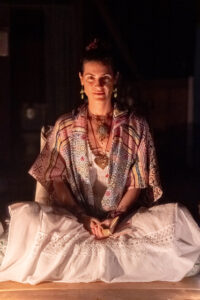 Facilitator Shipibo Lineage, Rapé Practitioner, Psychosynthesis Life Coach, Yoga Instructor YT200, Sacred Cacao Ceremonies Facilitator.
www.lotustranspersonal.com
Italian born and raised, I found myself dealing with depression, eating disorders, and traumas that were seriously limiting my life to the point my own existence was at risk.
My resilience (and probably my higher Self) pushed me to work hard in solving my situation, till I received the call from Ayahuasca during a meditation, a turning point in my life. I am now humbly honored to have been called in serving the medicine as a facilitator at Soul Quest Church of Mother Earth.
​
My degree in Languages and Cultures gave me a unique knowledge and prospective of "the software of the mind" made of a web of language structures, cultural assumptions and values that together shape the basic network of human mind.
​
The call to service also showed me I needed to expand my offer to be more inclusive of different tools to help others in their path. Thus, I committed in studying Psychosynthesis, Spiritual/Transpersonal psychology, which gave me beautiful tools to guide anyone into the discovery of their true Self and their Purpose and integrate medicine journeys.
I'm very committed to keep learning and deepen my knowledge and relationship with Master Plants and Spirits and transpersonal tools to better facilitate your process at Soul Quest Church of Mother Earth, as well as you can work with me directly at Lotus Transpersonal, for preparation and integration of the work done at Soul Quest.
My devotion to service took me to Peru where I studied with Shipibo (one of the tribes with the ancient tradition working with Master Plants and Ayahuasca), dieted two beautiful Plant Spirits and receive the initiation to carry Shipibo lineage, thus being able to support you even further.
You will definitely be hearing me singing Icaros (traditional medicine songs) during your stay with us. ☺
Fun Facts:
Minister at Universal Life Church
Salsa Dancer
Speak 5 Languages
Events with Melissa